Sixteen Tons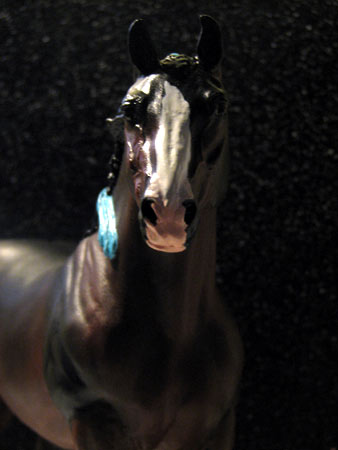 Alright. Hee. This is Sixteen Tons, the deliciously yummy Bay Shire gelding. He is from the BHR Draft horse mold and is very large and heavy.
I need to keep up in my web skills, so I decided that he should indeed have his very own page.
Sixteen Tons has NAN'ed 4 times for his previous owner. I fell in love with him at first sight, but didn't have the funds to buy him. Luckily, I kept his link, and by chance and a lucky timed email, he came home to live with me.
Man, he has a gorgeous head. Here is a direct scan. I love the way Jamie Coughlin does bays.
I will add to this page when I show him. I can't wait! He is just stunning!


******
TC Farms MHS All Halter Extravaganza
Oct. 23rd 2004-New Richmond, WI 3rd Place Large resin Feathered Draft. I am SO proud! This class was tough! I have never seen so many LOVELY draft horses all together :-D! 2 Haggis resins, a Voltaire, and I *think* a Northlight or two. YAY for Ol' Sixteen Tons! This was his first show since I got him!