Llensha Stables: Creation
Llensha Stables. Why that name? Well, back in 1996, I started showing Models and wanted to find a stable name. A friend of mine, Shawnna, came up with a name that put the both of our names together, Llen (for Hellen), and sha (for Shawnna).
So it really isn't a word persay, but rather a collaboration.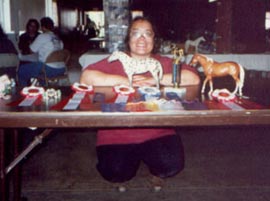 This is me in the middle 90's (I think!) I cannot remember the year, but it was at my 2nd UMR, in Minnesota. That show was such a blast, and it was the show that propelled me out of the Novice and into the Open divisions. EEEEEK! It has been an experience, I can tell you. Trying to show on a budget can be a bit frustrating sometimes.
I will be putting more pictures up as I get them, of me and my collection! I have met many wonderful people and have gotten so many nifty things at model horse shows!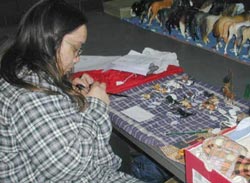 This is a photo of me at UMR 2001 in Hastings, MN. That show was a blast! And I got to see so many of my horsey friends! Being it was the first show I'd been in for a while, I was quite impressed with the horses that have come out. My! I was just a bit nervous, having not that many horses.
I think in this picture I ws trying to put tack on Inquisition. Do you know how hard it is to put a teeny weeny English Saddle on a stablemate? Eeeeeeeeeeeek! In the end, when all was said and done, Inquisition won Reserve in the Novice division. I was impressed (and shocked) because it was the very first time i've shown performance.
I am now back into the show scene after a long absence. I am so happy to see everybody I knew again, and meet so many new wonderful people. I am very impressed with the quality of horses out there in the showring. WOW! The two shows I've attended were well attended. Both with showers AND great horses!
It's come a long way in the years since my first show.