Llensha Stables: Jumps-Part two
Please click on the images with a border, in order to see a larger version.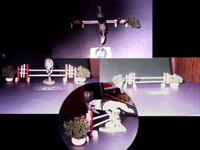 Sorry bout the picture quality. This is a Micro Mini scale jumper fence, with bushes. It is red and white with 2 white bars. Whew! This one took me a little while to do.
I have a three bar one like it, as well as others in the making.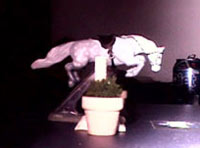 Here is another of my jumps, with Emmett modeling. He is just way too awesome! I have brought him out to a few shows, and put him in performance and he always does quite well. I have learned a bunch showing performance and making jumps.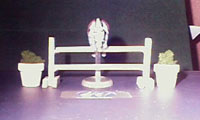 Here is the other view of that jump. It is a hunter jump, I created from looking at a book. It has neat little jump cups as well.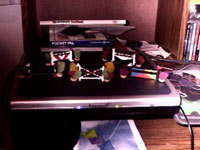 Here is the first set of jumps I ever made. This was back in 1995 I think. They are Micro Mini scale (gee, I sense an addiction here!) and I am amazed that they've held up so long. See how I've arranged them on the laptop? Hee hee! I love creating these, and they turn out brilliant!

I've painted them in multiple colors.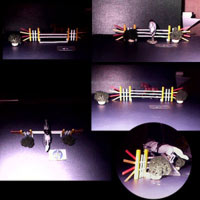 Just finished this one. This one took forever with the rays and multi-colors. It has red, yellow, white and gold. I named it the Sun Jump. I love how this one turned out.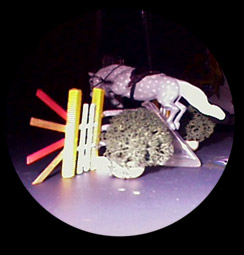 This is a close up of that jump. See the differing colors? And Emmett is soaring beautifully above it!
I am pleased that this came out so well. I am making different jumps all the time now, as time allows.