My 1st Breyer Flockie!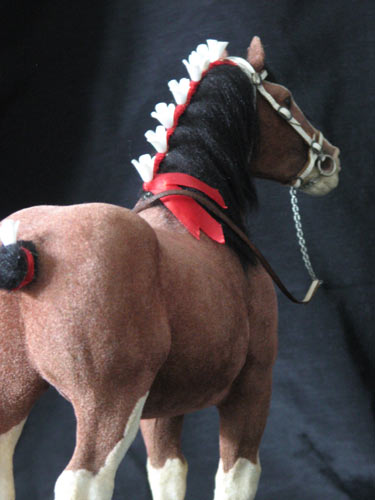 Oh my! :-) I am SO jazzed about this guy! He's the 1982 Sears Special Run from the Wish Book. The Clydesdale Mare, turned into a GELDING and FLOCKED! With a HAIR MANE AND TAIL! *woot* And, I am the proud and too happy owner!

Ok, so I wanted this guy, like.. forever! And then I saw an ad on MH$P! Oh my, did I have a frantic few days, as I was pondering and pondering..... I need another horse like I need another hole in my head! But... in comes my Dad :-) and he persuades (well, none too much, to push me over the edge) me to get him. So I did!

He's WAY too gorgeous, does have a few rubs, but they are miniscule, when you think of his age! My goodness :) And all the things on him! His mane ribbon and decorations and TAIL decorations are STILL there! Amazing! And his halter is SO PERFECT! A bit on the dry side for the leather, but... that can be conditioned. He shipped VERY FAST! And in BUBBLE WRAP! I am so impressed by this guy.

I spend a lot of time just staring at him. Hee! OK, so it's one of the rare items in my collection. I'm not too sure how many were made of him, but I haven't seen that many for sale, nor that many at shows. I admit to having lusted at the one I DID see at a show. And to think he's now a part of my collection. And helped by my Dad! It's a great thing!